Directions to Dhamma Rasmi
How to get to the centre
The Vipassana Centre Queensland is located at the end of Rules Road, Pomona, 142km north of Brisbane and 40km south of Gympie, not far from the Bruce Highway.
By road
Pomona is approximately one and a half hours drive north of Brisbane; follow the Bruce Highway.
Directions:
go past the Cooroy (230) exit
take the next exit to Pomona/Kin Kin (237)
turn right at the first roundabout
at the next roundabout turn left to the Old Bruce Highway
follow the highway for 2km, turn right at Pioneer Road/Kin Kin turnoff
after 2km, at the T junction, turn right into Pomona Connection Road
take the next right into Rules Road, and
follow the signs to the meditation centre at the end of the road.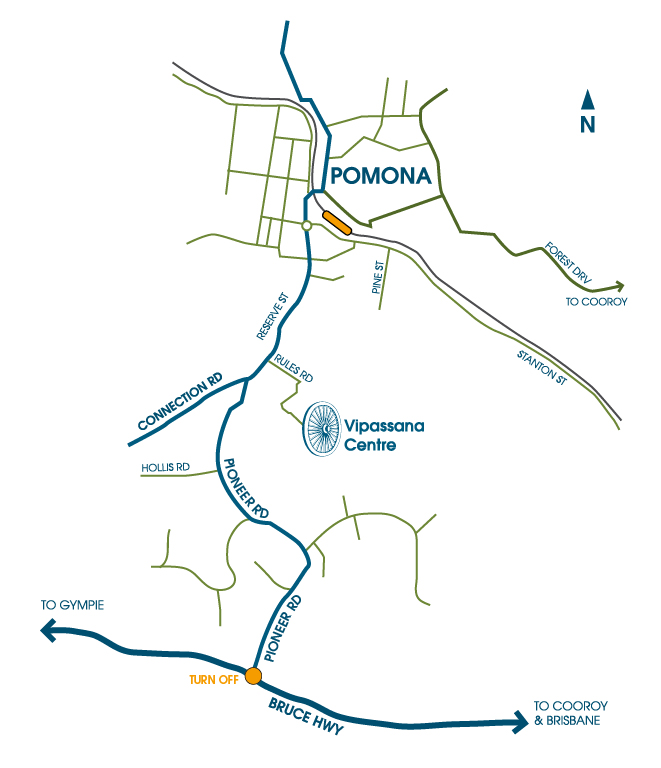 ---
By train
There is a train service which comes to Pomona from Brisbane, but there is no public transport from the station to the meditation centre; a 20 minute walk. This train arrives at Pomona railway station at 12:05pm on weekdays (departs Roma St Station, Brisbane at 9:33am). See Translink for further details on trains.
Please note: arrangements are in place to meet the train at Pomona station at 12:05pm on the weekday the course begins. Luggage will be transferred to the centre and we can provide a lift to those who have mobility problems.
Because registration for the course does not start until 3pm it is preferable for new students to relax in town and walk to the centre at this later time. Students who have previously completed a Vipassana meditation course in this tradition are encouraged to come directly to the centre to help with the setup for the course.
---
Airport transfer
Note that the Sunshine Coast (Maroochydore) Airport is closer to the Vipassana Centre in Pomona than the Brisbane airports.